Our History
It all started in 1962 when co-founders Harold Shapiro and Howard Speer saw an opportunity to open the first discount floor covering store in the history of Central New York. Our first store, Tile Town, took to reality in February 1962 at 468 N Salina st in Syracuse, NY where the store operated for 2 years before we moved down the road to 638 N Salina st, where we served the city of Syracuse for 33 years. As time went on we realized that being a discount store was not enough. We had to feature the cutting edge of fashion in floor covering. The merchandise had to be the most desirable, fashionable, and of the best quality in addition to being discounted. This still holds true today for this is what we strive for every day.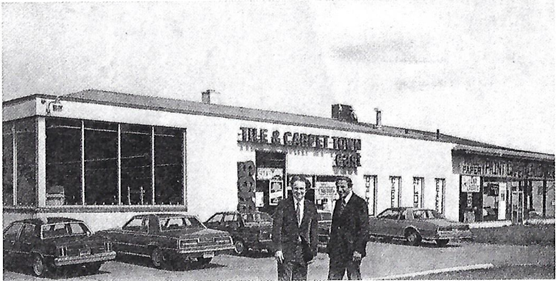 In 1976 The second and now flagship location opened at 3195 Erie Blvd E. in Dewitt, NY. In 1980 with our selection and variety of products rapidly expanding we decided to change our name to highlight this to Tile & Carpet Town. In 1985 we joined the growing nationwide Co-Op Carpet One. Since then we have enjoyed the benefits of being a family-owned business with the partnership of over 1,000 stores worldwide. With a rich history of exceptional customer service, unprecedented selection, and unmatched quality Tile Town Carpet One Floor & Home has opened numerous locations and currently operates 3 stores in Dewitt, Liverpool, and Auburn.
To this day we pride ourselves on being involved in the local community and helping design dream floors for all homeowners in Central New York. As any of our many happy customers over the years will tell you our difference is our guarantee. We guarantee you will be satisfied with your new floor or we will replace it for free on most of our products. Stop in today to talk to one of our Certified Floor & Home consultants who will help guide you on the exciting journey of selecting a new and beautiful floor.