Custom Tile Showers
A beautiful shower is the foundation of your bathroom and provides a refreshing place to relax and reenergize. At , we specialize in creating gorgeous custom showers. Our professionals can help you through the process of choosing a coordinated tile design, creating a shower concept, and then performing a flawless installation. You'll love your new shower and we'll help you create an enduring look using quality products and design expertise so that your bathroom will stay gorgeous for years to come.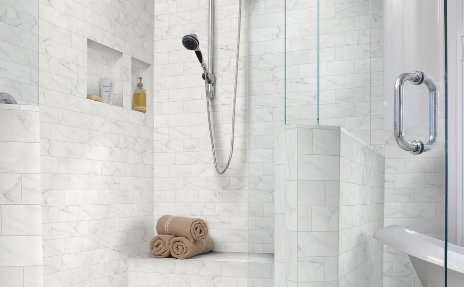 Benefits of Custom Tile Showers
Custom tile showers create a luxurious spa-like retreat in your home where you can de-stress and elevate your health and wellbeing. Whether you want a sleek, contemporary-style walk-in shower or a fresh, coastal feel, we can help you create the shower design of your dreams. Our experienced team of home and flooring experts can show you the best tile for shower and bath installations and help you come up with detailed shower design ideas.

One of the primary advantages of choosing a custom tile shower is that you have more design versatility. You can select unique structural schemes like a doorless walk-in shower or creative alcove shower with a custom shower base and bench. We carry a wide array of ceramic, porcelain, stone, glass, metal, and other types of tiles to choose from, and you can endlessly mix and match them to develop distinctive patterns. We can help you find a product that fits your lifestyle and needs, including specialty items with enhanced slip and stain-resistance. Our in-house design team can also help you coordinate your custom tile shower with the rest of your bathroom, including your backsplash and sink countertops.

When you install with us, your new shower will stay looking gorgeous for years to come thanks to our expertise and professional work. Beyond providing a space to improve your health and wellbeing, a custom tile shower also increases the value of your home. Whether you're simply looking for a few master bathroom shower ideas or you're ready to begin your custom shower tile project, contact us today to learn more about our services and the unique range of premium products we offer.