Armstrong Luxury Vinyl Brand Page
At Tile Town Carpet One Floor & Home, Armstrong luxury vinyl floors are one of our top brands. Built with active lifestyles in mind and featuring easy maintenance, Armstrong luxury vinyl is one of the finest choices on the luxury vinyl market today. Whether you have a large or small family, many pets, or you enjoy entertaining, choosing Armstrong luxury vinyl can make your life easier, thanks to the high performing nature of the floor.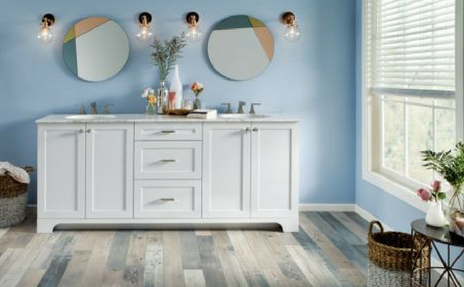 Armstrong luxury vinyl is a product that fits almost any homeowner, due to its vast number of styles. The Armstrong luxury vinyl collection features many designs with different colors, textures, wood looks, and patterns. From rustic farmhouse looks to modern, eclectic trends in today's floors, Armstrong luxury vinyl has a wide range of flooring to complement your design.
Along with spot-on designs, Armstrong makes floors that are constructed for today's homeowners. With the use of several layers, luxury vinyl provides flooring that is sturdy enough to handle lots of activity. Another benefit of luxury vinyl is its wear layer, which prevents scuffs and scrapes from occurring even with heels and boots. In addition, luxury vinyl is not prone to expansion and contraction because of the material it is made of. Because of this and the installation process, luxury vinyl can be installed on all levels of your home, even in basements and finished attics.
We are here to help you make your home design dreams a reality. Let our flooring experts guide your flooring purchase based on your activity levels, budget, and style. No matter your preferences, we can help you find Armstrong luxury vinyl that will suit your needs.